Save $300* On ASKO Washing Machines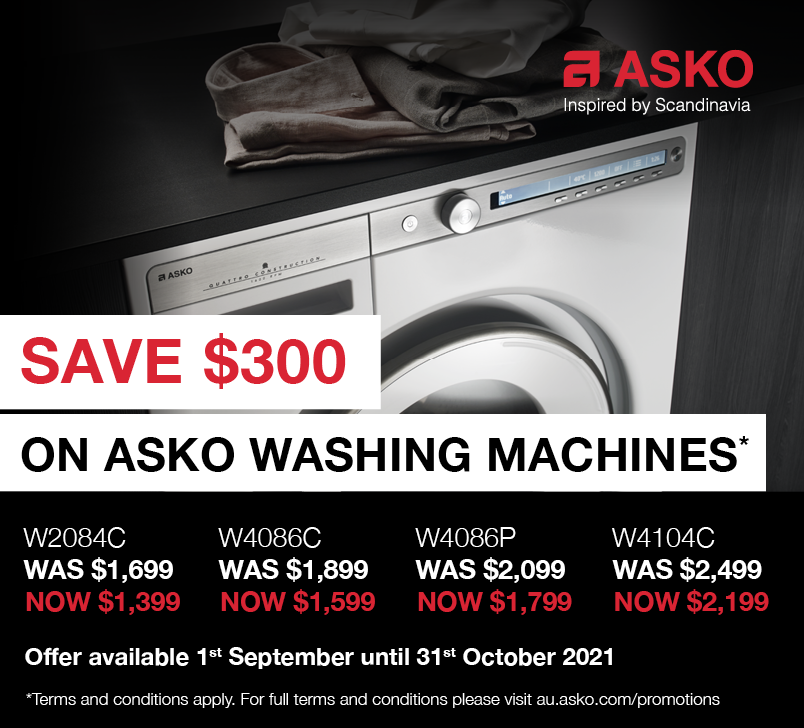 Terms & Conditions
Promotion Period: 1st September - 31st October
Offer only available on the purchase of eligible ASKO appliances from ASKO authorised agents in Australia between 1 st of September and 31st of October 2021 at 6pm AEST (Offer Period).

Offer only available strictly while stocks last, no rainchecks.

Offer is inclusive of GST and will be deducted off the full retail price. Full retail price is disclosed on ASKO's website www.asko.com.au under the associated product

This offer is valid in conjunction with 'Buy My Partner' & ' Buy My Partner +' offers.

This offer will be applied at point of purchase, not via redemption. Offer only available on purchases of ASKO Washing Machine range: W2084C, W4086C, W4086P and W4104C designed for domestic/personal use (not available on any other ASKO dishwashers, washing machines, dryers, cooking or kitchen appliances).
Click here for Terms & Conditions: https://www.asko.com.au/promotions
Enquire about this offer
Fill out the form below and one of our friendly team will get back to you shortly.